This website is closed and not active anymore.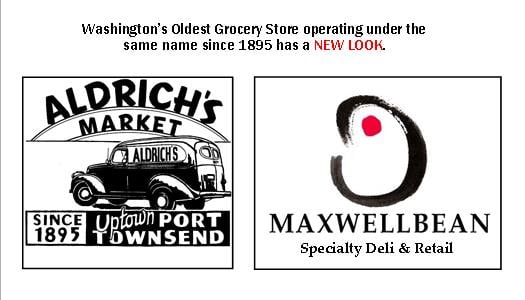 GRAYSMARSH BLUEBERRIES
Today's Soups: Beefy Tomato Noodle (Dairy Free)
Clam Chowder (Gluten Free)
Hearty Mushroom & Potato (Vegan, GF, DF)
Maxwellbean: Ahi Poke Over Rice
Hot Noodle Soup w/Tempura
Albacore w/Seven Elements Sauce
Porky Boy & Suzy Q Sandwiches
Miso Soup
Wine Special on Mezzanine:
2010 Waterbrook Merlot, $12.99 . Limited Edition with Purple and Gold Washington Huskies Label. Limited Edition label at Amazon.com is $24.99. Regular bottle price is $21.99.
Welcome to Aldrich's
Aldrich's Market first opened in 1895 when Clark Aldrich purchased a variety store from Robert Gray and operated it on the southwest corner of Lawrence and Tyler streets. In those early years it was known best for selling school books and stationery, but also had confectionery, fruits, vegetables, and tobacco.
On August 4, 2003 Aldrich's caught fire and was totally destroyed. The community grieved the loss of the oldest grocery store in Washington State, but the owners vowed to rebuild. On July 16, 2005 Aldrich's reopened with the help of an outpouring of support from the community and is once again the hub of the Uptown business community.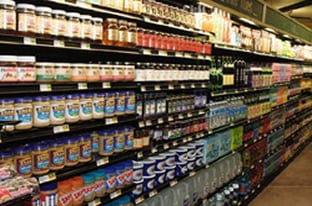 Our Grocery department offers a mix of the eclectic with the ordinary. Sure, we have the everyday grocery staples for everyday living. But we also offer a number of hard to find, excellent quality products that will tantalize even the most jaded tastebuds, highlighted by our own Aldrich's brand products. Try our Aldrich's Rustic Tuscan Dipping Oil made with extra virgin olive oil ($6.99) with local artisan breads. Or pour on over pasta our Aldrich's Tomato Pinenut Parmesan Pasta Sauces ($4.99) for a quick gourmet meal.
We seek out products from around the world that delight the senses. Has anyone ever tasted a wafer cookie more intensely flavored than Loacker Quadratini (vanilla, lemon, hazelnut flavors) from Italy? Or a fruit nectar as flavorful as Looza juices from Belgium? Try the Black Currant, it's a favorite of Eastern European and Russian immigrants. Or the Pear Nectar - a favorite of local Port Townsend customers.
At the same time, we take pride in supporting and featuring our local products such as Mt. Townsend Creamery Cheeses, desserts by Pastry Designs by Anca, distinctive cakes and cookies from Uptown Custom Catering, and artisan organic breads from Pane d'Amore.
We keep things fresh by continually introducing new and unique products not commonly found at local grocery stores. Sonoma Sparklers' line of handcrafted, organic, fruit sparklers, or Coeur D'Olives extra virgin olive oils and premium balsamic vinegars from the Modena region in Italy, are a couple recent examples.
Meat & Seafood
Not your ordinary Meat and Seafood Department, Aldrich's features all natural poultry, including organic chickens, and Misty Isle All Natural Beef. For a real treat, try our signature all natural filet mignon. Buffalo cuts have become very popular with the health-conscious consumer. Very lean and tasty, we feature popular steak cuts such as New York, Rib-Eye, and Top Sirloin, in addition to the more commonly found ground buffalo. Also, check out the variety of Uli's Famous Sausages from Pike Street Marketplace in Seattle (all $7.99/lb).
All of our fresh salmon is wild, ocean-caught fish. For a special, unique treat, we introduced Hawaiian Poke to Port Townsend and prepare it every Friday made with quality ahi tuna.
Our meat department is service oriented; come by and tell us what you want and we'll try to accommodate your request!
Produce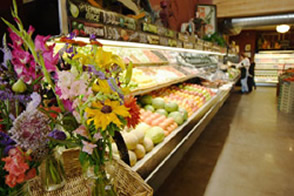 Focusing on locally and organically grown, Aldrich's has an extensive selection of fresh fruit and vegetables from around the world. Aldrich's produce is meticulously maintained and is showcased by the only salad bar in town that features organically grown leafy greens. Come by and create your own delectable and healthy lunch at the salad bar repeatedly voted Best Salad Bar in Jefferson County - again in 2014.
Also available seven days a week is our signature, fresh-squeezed orange juice. Delicious and good for you, it has only one ingredient - fresh squeezed oranges. Come by most mornings and see (and smell!) for yourself the fresh squeezed difference.
Wine & Beer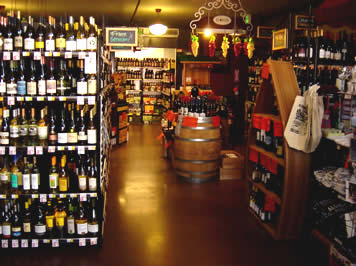 Almost a store within a store, our wine department features over 700 wines from around the world. We proudly feature local wineries from the Olympic Peninsula, and regional wines from outstanding Washington and Oregon wineries.
We make an effort to introduce wines not available to the local Olympic Peninsula market. We are constantly looking for the wines that deliver the most for the money. We're currently very pleased with some of the reasonably priced Malbecs from Argentina.
Our walk-in beer cooler focuses on Northwest microbrews, including Port Townsend Brewing Company's array of fine ales. Serious beer drinkers love the fact that we strive to carry the most interesting beer selection in Port Townsend, with several labels only found here at Aldrich's.
Marketplace Deli & Ohana Sushi
Relative to other grocery stores, customers and visitors are pleasantly surprised to find such a comprehensive food services section within Aldrich's Market. The Marketplace Deli presents a delectable, thoughtful and distinctive array of food choices to the Uptown community. New selections are regularly added as specials to make things fresh, interesting and inviting for our customers.
Come visit the most distinctive deli in town. Open Daily and serving:
Panini sandwiches
Hot soups
Espresso and coffee
Premium deli meats
Specialty cheeses
Distinctive entrees
Granita smoothies
Voted Best Soups in Jefferson County in 2014 once again.
Ohana Sushi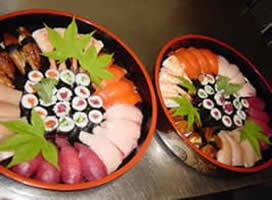 If you like sushi, you simply cannot get it any fresher than that provided by Aldrich's Market. Serving the weekday needs of our customers, Ohana Sushi is an unforgettable part of your visit to Aldrich's Market and a huge favorite of local residents.
Creative party platters and special orders, such as our delicious, marinated Kazu Black Cod, are also available. And, beginning in May 2013, sit-down, plated, restaurant service featuring roll sushi and other special selections are available thru Maxwellbean on the mezzanine.
And don't forget to stop by our Wine section before going home. To complement our fantastic sushi for your evening dinner, we offer Port Townsend's largest array of inexpensive to premium sakes.